Wood – From Tree to Floor
It's hard to imagine how timber from a tree can become an exquisite centrepiece on the floor of your home or office.
The journey of the felled tree begins when each trunk goes through the bucking process where it is cut into logs. Each piece will have its own price and specification for length, diameter and defects dependant on its end use.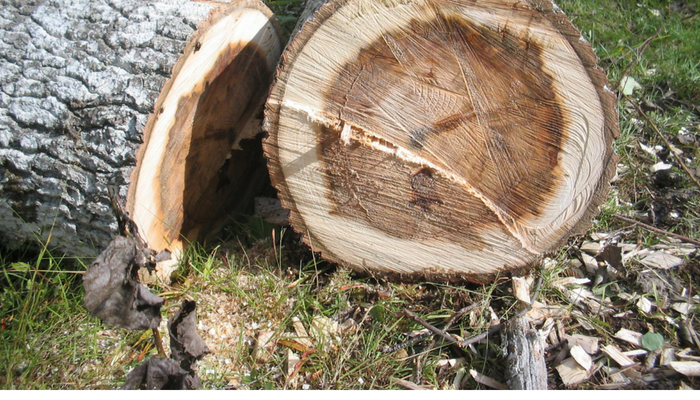 It's then taken to a sawmill where they are inspected and scaled. This is a process where its volume and quality or grade is assessed. Once the bark is removed the decking process begins when each log is sorted into species, size and end use for example lumber, plywood or chips. The logs are then broken down and squared away into what is called cants or flitches.
There are various ways it can be cut depending on the desired look of the floor but each method can affect the stability and price of the board. The most commonly used is flat or plain sawn. If it is quarter sawn it will be cut into quarters before cutting strips of wood to make the boards. A more expensive option is rift sawn where the log is cut at a different angle than quarter sawn and then cut into boards. However, this is probably the most stable and offers very high quality flooring.
Each board is then planed on all four sides to smooth saw marks and level the plank and kiln or air dried. Kiln drying is very energy intensive but the drying of the lumber is also one of the most important factors for the quality of a hardwood floor. Care must be taken to ensure it is dried correctly as each species and thickness will have variances in drying time which involves meticulous testing and observation.
The boards are then machine cut to provide the tongue and groove edges which ensure that the boards lock together neatly. This construction offers some allowance for the boards to expand and contract, without creating gaps between planks once the floor has been laid.
The final product is then sealed/stained with several coats of protective finish. The key advantages of solid wood flooring is its durability and ability to restore them to their original beauty and structural integrity many times by sanding and refinishing.
An alternative to solid wood is engineered wood flooring. The plywood core board is produced by putting plies on top of one another in opposite directions. The more layers in the plywood increases its stability and cost. It is then glued together. This makes it much more stable than solid wood as they are less likely to be affected by changes to the humidity or temperature of the atmosphere in which they are laid.
Why not come to our showroom and explore the flooring for yourself. Our showroom is open weekdays (and also on Saturdays and Sundays but we do request you make an appointment in advance).